Directions to Faith Baptist Church
Water Valley, Mississippi 38965
From Tupelo, MS
Approximate Time: 1 hours 20 minutes
Church Phone: 662-473-2878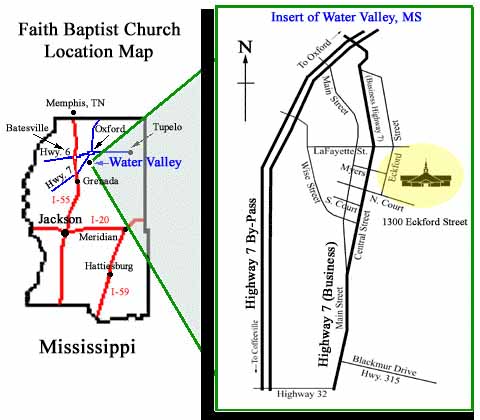 West of Tupelo look for exit signs to Oxford, MS ( for Route 9 South)
Take State Route 9 South off of US 78 (west of Tupelo).

A sign will indicate the Oxford, MS exit. Exit to the right, then under the overpass. This is also the exit for Sherman, MS. Exit to the right, then left under the overpass, heading south. [ Oxford is the home of the University of Mississippi, known as "Ole Miss."]

Go South on State Route 9 about 10 miles.
Take Left turn at Highway 76 (or 6 as it is better known) towards Oxford, MS.

Hwy. 76 is a 4 mile extension of Highway 6 which goes west to Oxford.

Go about 22 miles to East side of Oxford City Limits.
On the East side of Oxford, take the Water Valley, Highway 7 South Exit off of Highway 6. Look for the Water Valley Exit sign as you approach the Oxford area.
About 6 miles south on Highway 7, there is a "Y" fork in the road.

Bear to the RIGHT, staying with Hwy. 7 South.

The other route to the left is Hwy. 9W which you do NOT want.

Go about 13 miles, heading south on Highway 7.

At the last half mile, Highway 7 will widen into a divided 4 LANE.

Within 100 yards there will be an intersection. Off to the left is a hillside with Large White Letters spelling "WATER VALLEY."
Take a Left Turn at this intersection.

This will place you onto Old Highway 7 (better known as Central Street).

For about 1 mile, Wind down towards our town on this two lane road.
At the first Traffic Light you meet, make a Left Turn onto North Court Street.

The traffic light is just past a Shell Gas Station located on the on the right. At this point, you may also choose to turn LEFT at the street BEFORE the Shell Station. Myers Street ends into our parking lot.

Once on North Court Street, prepare for an immediate Left Turn at the first small street you meet. Eckford Street "T's" in from the left about a half block distance, just past a bank drive through.
The church is the second building on the Right, just past the parsonage.