How to Get to Heaven from Water Valley, Mississippi
Written by Dr. Bob Hill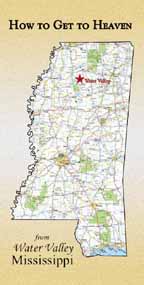 The highways of the world lead to many different places, and there are often many highways that can lead to the same place. However, in our journey to Heaven, there is but ONE way.
The Holy Bible quotes the Lord Jesus Christ stating: I am the way, the truth, and the life: no man cometh unto the Father, but by me (John 14:6). Again God's Word declares: For there is one God, and one mediator between God and men, the man Christ Jesus; Who gave himself a ransom for all, to be testified in due time (I Timothy 2:5-6).

The Bible, which is God's Road Map to Heaven gives us this instruction: For all have sinned, and come short of the glory of God; being justified freely by his grace through the redemption that is in Christ Jesus (Romans 3:23-24).

Well, that pretty much does away with the all-roads-lead-to-the-same-place idea. If anyone is ever to going reach Heaven, their spiritual journey must begin by trusting in Jesus Christ and having His gift of salvation.

There is a lot of insight wrapped up in those words, but basically the Bible is teaching us that we cannot reach Heaven on our own - by our own ability or through our own morality. We need the Lord Jesus to put us on the Road of Faith, trusting in His work on Calvary's Cross where He paid the penalty for our sin with His Own blood.
There is an old song which sings Jesus paid it all, all to Him I owe. Sin had left a crimson stain. He washed it white as snow. God honors those who accept Chris's payment for sin with His forgiveness, acceptance, and gift of eternal life.

When speaking of faith in Jesus Christ, the Bible states: In whom we have redemption through his blood, the forgiveness of sins, according to the riches of his grace (Ephesians 1:7). To admit that God is right and holy and that man is wrong and sinful, cuts across the grain of man's pride. Sadly, many people find it too difficult to yield themselves to God by faith and, thereby, lose their way on the Road of Life and miss the way to Heaven. This dead end path leads to eternal tragedy.

Friend, someday our journey through life will come to its end. Have you followed God's Road Map, the Bible, and received His forgiveness and gift of eternal life through His Son, Jesus Christ?
If not, why not stop right now and take a moment to take God at His Word, confess your sin, and receive Christ's forgiveness and gift of eternal life?

God promises in John 1:12: As many as receive him (i.e., Jesus Christ), to them gave he power to become the sons of God, even as many as believe on his name. Trust in God's promise now and receive His forgiveness and new life in Christ.
Now, you may wonder why the title How to get to Heaven from Water Valley, Mississippi. The answer is: To illustrate that obtaining assurance of a home in Heaven is no more or less difficult in Water Valley, Mississippi, than in any other place in the world. The way to eternal life through Jesus Christ is the same no matter where you are or who you are.
The need for forgiveness of sin and the acceptance of Christ's payment for your sin with His blood are essential in God's plan for your salvation. You can place your trust in God's Son, Jesus Christ, as your Saviour and begin your journey to Heaven - from wherever you may be - by asking the Lord to forgive your sin and receiving His promise of forgiveness. You can talk with Him as you would your best friend. We have His promise of forgiveness and eternal life (I John 1:9).
It is my hope that you will sincerely consider these words of encouragement. If I can be more help to you in this area, feel welcome to contact me using the information below.