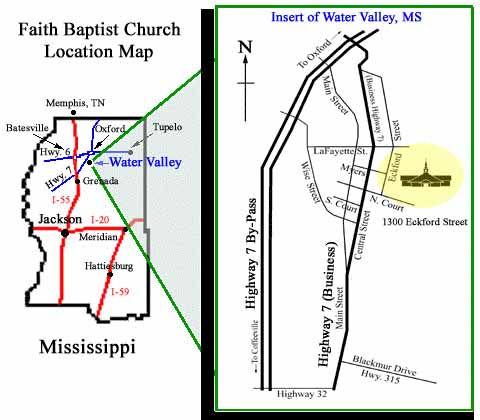 Our Location
Faith Baptist Church is located in the beautiful Tri-Lakes area of North-Central Mississippi. Nearby Lake Enid is famous for being the home of the "World's Largest Crappie." The City of Water Valley is also the home of the Casey Jones Railroad Museum. The famous engineer once lived and housed his steam locomotive here.
Water Valley is situated amidst the Holly Springs National Forest and the George P. Cossar State Park. The area offers log cabin retreats and well-equipped camping sites for recreational vehicles.
Located within convenient driving distance from the University of Mississippi in Oxford, Faith Baptist Church offers the best in southern hospitality and practical Bible teaching. So, when visiting our area for camping, fishing, or brushing up on a bit of railroad history; be sure to visit us at Faith Baptist Church.
For detailed directions click one of the following options.
From Memphis, TN From Chattanooga, TN
From Birmingham, AL From Jackson, MS